Vinyl Flooring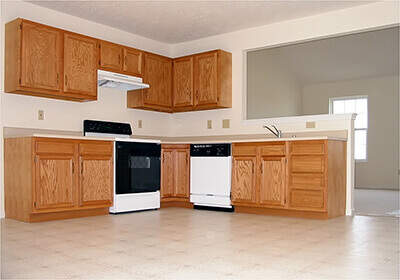 Vinyl is an increasingly popular and exciting choice for homes everywhere. This is due to the high level of customization, ease of installation, and cost savings involved in using vinyl flooring.
Vinyl comes in two physical styles: sheet vinyl and vinyl tile. The sheet goods vinyl comes in large rolls and can be very quickly and easily installed in any location of the home. The vinyl tile is our Luxury Line that offers a plank or tile look, which can provide unique visuals, exceptional comfort, and an easy to clean surface. Vinyl is a good alternative to hardwood flooring because of its waterproof qualities.
While we stand behind the classic sheet vinyl, we love the look, feel, durability, and customization of the vinyl tile. Our Luxury Vinyl performs amazingly in a home with active pets. The wear and tear or scratches from cats and dogs, as well as their accidents, are no match for Luxury Vinyl flooring. Resistant to muddy paw prints and human shoe prints alike, Luxury Vinyl remains durable enough for utility areas, bathrooms and even hallways.
Sheet Vinyl vs Vinyl Tile
When you're looking for vinyl, the options are always going to be between sheet and tile. While the two share some properties, both can be made from and returned into recyclable products, and both are highly resistant to water damage, that is where the similarities end.
Sheet vinyl is created using the same similar process as when it first started making an appearance many years ago. Due to the production process there is an inherent lack of customization meaning the choices you have are somewhat limited. A huge benefit is the ease of installation. You simply roll it out and cut it to fit the space. The largest drawbacks of sheet vinyl is the inability to make small repairs and the lack of overall durability. Because the sheet is large, making a repair in the center is not possible without cutting and patching. The production process creates a non-uniformity in the thickness of the sheet which can affect the durability.
Vinyl tile is the seemingly superior alternative to sheet vinyl. Because it is created with smaller pieces, customization is near limitless. The durability is very high because each piece is individually created so the mass production drawbacks are not there. Also, because each tile is it's own individual piece, similar to laminate flooring, repairs are simple.
In addition to vinyl flooring options we offer hardwood flooring and the classic carpeting options.